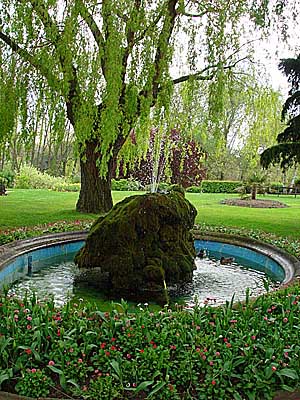 éols, that many consider a suburb of Châteauroux, is a different town still, just linked to Châteauroux by the bridge on the river Indre. The old rivalry between the two towns is part of the local jokes and the inhabitants of Déols call themselves "Turquins" by self-derision. The origins of this nickname ( no connexion with the Turks !) remain obscure but it is still in use !
Déols is in fact much older than Châteauroux. First a gallo-roman town, it was one of the earliest christian centres in the province of Berry. In 917, Ebbes le Noble, one of the Princes of Déols founded an important benedictine Abbey. Its influence lasted until the XVI th century. But it was ravaged by the Huguenots and secularized in 1622, then almost completely demolished during the XIX th century. Only a magnificent romanesque bell tower has remained, which is the symbol of the town and the pride of local people !
Déols also possesses other remains of the past, which have been recently restored and highlighted. The embellishment and floral decoration make Deols a very pleasant town to live in. The " Ecoparc des Chenevières" is a remarkable nature reserve, where plants and animals are protected. It is the green lung of the town and the favourite walk for the people of Déols. Click on the icons "Histoire" and "Nature" on top of the page to start the visit.